I was determined to get Sahara finished by last weekend but didn't quite make it as I have explained in my blog however I do think she's looking lovely and really enjoyed the ease of the pattern. I also found the error in the pattern when joining into the round, but just went the other way and it works just fine.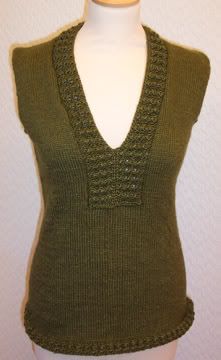 I am going for the sleeveless version so just have the edgings to do. I cast off the bottom edging with a 5mm needle to give the garment enough give to hang right on the hips
I used Louisa Harding 'Grace' yarn, which is a silk and wool mix. I love the colour and the feel of the yarn, but it does have a tendancy to split and pill so I'm not sure about its longevity, will have to be really gentle with the washing process. Am going to move on to our second project now. As yet am undecided about yarn, love some of the yarns people are using but can't get them in the UK. Its not fair.
Anyway, if you want to see more photos of Sahara's progress please look at my blog
www.justcallmeruby.blogspot.com
where I've posted lots of pics.
for now
Ruby x