For better or worse, I have my yarn for "Tempting II". I purchased 6 balls of
Lana Grossa Basics "Fresh"
in color #301. According to the ball band this yarn should knit up at 20 sts over 4 inches as the Tempting pattern requires.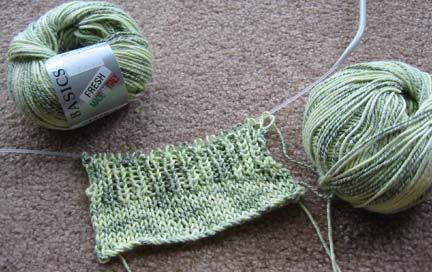 I've done numerous gauge swatches and I've found the needle size I need to achieve that exact gauge. Personally I think this particular yarn looks better knitted up at a tighter gauge, like 22 to 24 stitches over the 4 inches, but I'll go with what the pattern requires. It's lovely soft yarn and I haven't been able to find much else locally.
I hope I don't end up regretting that decision.