Hi everybody,
My name's Jessica. I'm a new member, and pleased to be here.
I'm
a knitter
, geek, and
bellydancer
, and damn sexy in all three respects, if I do say so myself. :)
I'm not actually working on Picovoli, so I can't formally join the knit-along. However, I've made two Tivolis in KnitPicks Shine before it was published as Picovoli. I really liked that pattern: body-skimming, but not showing a lot of flesh. It really highlights the collarbone, which is a very sexy in a modest and feminine way. Since I did this before the full size range available, I had to resize it for myself and my mom. I didn't do a great job of my own: I didn't believe Grumperina when she suggested two inches of negative ease, and so mine was too loose. However, it still looks nice. The looseness creates a nice drape in the back:
I just blocked Momvoli, for which I did use Grumperina's ease suggestions, and it was much better:
(at the try-on point, back in September)
(on the blocking board beside Soleil, which I also made of Shine)
I'm working on another project, which is decidedly sexy:
Hopeful
by Jenna Adorno:
(image hotlinked from Jenna's site)
I'm almost to the bust-line (bottom-up):
I'm also working on the Hush-Hush chemise from the Sex & the Knitty issue of
Knitty
:
This is a project I work on a few rows at a time, between other projects. I have a hard time making progress on this one, since it moves so slowly and isn't terribly interesting, outside the lace sections. My sister has also asked for a tank top version of this. That may or may not happen, although I have enought yarn. :)
Finally, high on my knitting wishlist is Tubey from the latest issue of Knitty: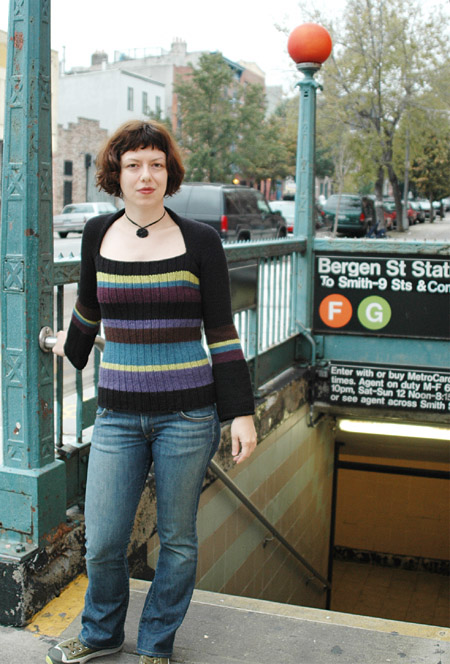 (hotlinked from the Knitty site)
I adore the sweetheard neckline. I had a jersey knit top with that shape, and it was incredibly flattering. However, it was too short-waisted, so I never felt good in it. I am very excited about this pattern. Like Picovoli, Tubey exposes a lot of chest without showing a speck of cleavage. My cousin-in-law and cousin-in-law-in-law gave me a gift certificate to
Kpixie
, which I'll use to buy some Aurora 8 for this project. I just love that yarn!