This is my very favorite sweater EVER! I know, I know, I said that about the sizzle and the somewhat cowl, but this one is right up there with the sizzle! Please ignore the fact that I'm wearing this over my workout pants and have no makeup on, it was late at night when I finished and I just couldn't wait to take the pic. I think I've worn it almost every day since!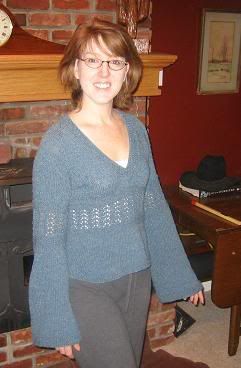 I used Elsebeth Lavold's silky tweed, a blend of wool & silk and got it quite cheap at
webs
and LOVED it! I also changed the purl bumps into regular garter stitch rows and didn't use any sequins, just the same yarn in color #16. I made the next-to smallest size, and am probably going to make another in the short sleeved version and will make the smallest size. I got gauge, but it turned out a bit looser than I imagined, but it's perfect for wearing over a tank top. LOVE THIS PATTERN!